Timmins mayor George Pirie called his first-ever "State of the City" address "Challenges and Opportunities".  It could have easily been called "Communication and Collaboration".
In front of a packed Porcupine Dante Club at a lunch put on by the Chamber of Commerce,  the mayor presented an optimistic outlook for the future, by citing resource sector companies that are already here or contemplating coming here; what the post-secondary education sector is doing;  and initiatives from city hall and his council.
A common thread is that communication and collaboration are vital to reaping the benefits of all the current and anticipated activity.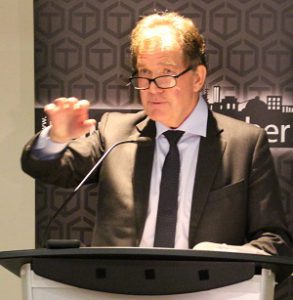 Pirie mentioned a recent Saturday training session presented to council by the planning department. He said there was a lot of "can" and flexibility that came out of it.
I'm convinced we're all working in the right direction to make this city not only actually, but from a perception point of view, open for business," he said.
One of the smaller issues he addressed is snowplowing complaints… which he says mostly revolve around communications.
The mayor said it should be possible to use GPS to keep track of snow-clearing equipment, the same way it does with Timmins Transit buses.
"We should be able to communicate on any given day exactly what the cleaning schedule is and we're working in that direction," the mayor stated. " People should be able to go online, and I promise you they will be able to go online to get the answers they need without having to call the mayor."  That last part was met with laughter from the audience.
We'll have highlights from the speech in the days to come on My Timmins Now Dot Com and Moose FM News.