When things go downhill quickly, that's good for a ski racing team.
Members of the Timmins Ski Racers – who train at Kamiskotia – were split between two provinces over the weekend, and brought home an equipment bag full of medals.
Head coach Cameron Grant says competing over the weekend were skiers in the under 12, under 14 and under 16-year-old categories.
"We have a smaller group this year, but it tends to be cyclical," says Grant, "so we had seven racers join us for the out-of-town races in Mattawa and we had one of the U12s, Myriam Levesque, who travelled to Val d'Or with one of our junior coaches where she managed to win gold in both days."
Timmins racers are traditionally known for their prowess in slalom events.  Grant says that's because the hill is smaller than most, and that's an advantage.
This weekend, the Ski Racers host the Boreal Cup at Kamiskotia.
"That will consist of a U14 and up slalom and giant slalom over Saturday and Sunday," according to the coach, " as well as for the U12 will be what's called a combi race, a combination race and giant slalom."
Teams will be in from Sudbury, Sault Ste. Marie, North Bay and Elliot Lake.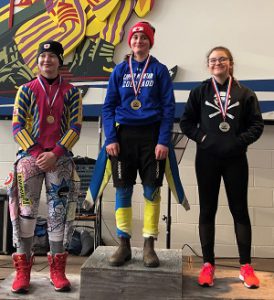 TIMMINS SKI RACERS WEEKEND MEDALLISTS
At Mount Antoine, Mattawa
Kendra Rusenstrom, Gold in Slalom
Sophie Harterre, Silver in Giant Slalom
Camron Nycz, 2 Gold in Giant Slalom
Eli Taylor, Bronze in Slalom
Jamie Brain, Bronze in Giant Slalom
At Mont Vidéo, Val d'Or
Myriam Lévesque, Two Golds