Celebrations will be held all over the British Commonwealth, if not the world on Friday, for Scottish poet Robert Burns's birthday.
Here in Timmins, one celebration is an afternoon tea party at the public library's main branch.
Organizer and reference librarian Karina Miki Douglas-Takayesu says he was born January 25th, 1759, and there has been a Robbie Burns Day celebration in the Porcupine Camp every year since the first one in 1916.
"They broke with protocol in that they allowed women to attend," she notes.  "I don't know at what point actually there was actually a male-only event, but all the Robbie Burns festivities that I've been to in recent years have always had men and women attend."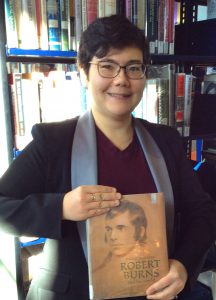 Douglas-Takayesu says that Burns wrote several hundred poems over his 37-year-long life, the most popular being Auld Lang Syne.
"This is his 260th birthday, so it's a little bit just a little on his life.  There's going to be a few presentations.  There'll be some tea and shortbread and it's open to all ages."
Of course, you can also expect some Scottish music.  The tea party begins at 2:00pm.
Click here for a list of Robert Burns biographies available at the Timmins Public Library and here for books of his poetry.