There's a new person heading up the Cochrane Polar Bear Habitat… and he has some innovative ideas for it.
Executive director Michael Honeth has been in town since last month… and already loves his new workplace.
"It's incredible," he enthuses, also calling it "world-class".
Honeth has a background in environmental and ecological issues, especially marine ecosystems.  As he points out, the polar bear is a marine mammal.
He says his first mandate is to make the facility self-sustaining.
"Up until now, the residents of Cochrane have essentially supported us through their taxpayer dollars," he states, " and we would like to become fully self-sufficient and not have to draw on the support of Cochrane residents."
To achieve that, he foresees the Habitat becoming not only a tourist attraction and home for orphaned polar bears, but also a research and education facility.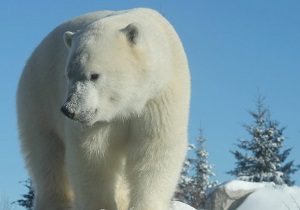 "We do believe that there's great opportunity bringing students here where they stay here for a few months or even a full semester," he muses, "and also researchers who can come here and that of course would bring in research dollars to the Habitat."
Honeth doubts that there's any way to grow attendance figures, partly because of Cochrane's location.