UPDATED WITH ENVIRONMENT CANADA FORECAST AS OF 4:00pm, Sat., Jan. 19
It's so cold, you might think someone stole most of the mercury out of your thermometer.
It's so cold, the ski resorts in the region are closed, such as Kamiskotia in Timmins, and Moonbeam's Remi Ski Club.
At 5:00am today, Environment Canada was reporting a temperature of -40C (which is also -40F) and a windchill equivalent of -50C at the Victor M. Power Timmins Airport.  Later in the morning, when it was -39C, at least one flight was delayed until the temperature got to -35C, and eventually cancelled.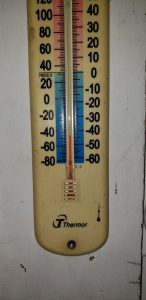 An extreme cold warning remains in effect for the region, with Environment Canada warning that "Frostbite can develop within minutes on exposed skin, especially with wind chill. If it's too cold for you to stay outside, it's too cold for your pet to stay outside."
Timmins also remains under its own cold weather alert, as a means of protecting the homeless.  Living Space on Cedar St. N. is open 8:30am-5:00pm as a warming centre.  Its operations move to the Native Friendship Centre on Kirby Ave. from 5:30pm to 8:00am so the homeless can be fed, allowed to shower and spend the night in the gym.
"Warm" is a relative term.  Monday is expected to be sunny with a high of -15C, falling back only to -21C that night.