While one summer festival in Timmins takes a hiatus, another reports that it's still going strong, into its eleventh year.
Stars and Thunder has been forced to sit out a year, but The Great Canadian Kayak Challenge and Festival will be back in August on the Mattagami River.  Steering committee chair Guy Lamarche says part of its success in its first decade is due to its partners.
"We've been very, very fortunate in the last number of years," according to the chair. "We've had a number of significant partners that have come to us and consequently really helped enhance the festival.  And that's really what you need in order to keep this going."
Lamarche expects to make an announcement soon about new partners and some bands booked for the weekend.  What he can reveal now is that the fly-boarding and water-skiing show will be back on Sunday afternoon.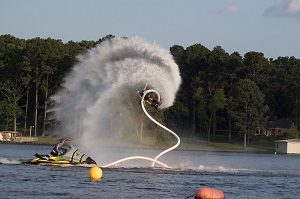 "They're confirmed and they will be back again this year," he notes, "to do three 45-minute shows on Sunday, shows that are a must-see if you haven't seen the presentation yet.  It's a bit of a stunt show and so far, it's been really well received."