This might not have occurred to you:  The most requested item in homeless shelters is new, dry socks.
Since 2014, an organization called Socks Timmins has been fulfilling that need, and avoiding duplication with other items and services.
Co-ordinator Carol Halt says any group or individual can collect socks – store-bought or handmade – and Socks Timmins will distribute them through the local shelters and food banks.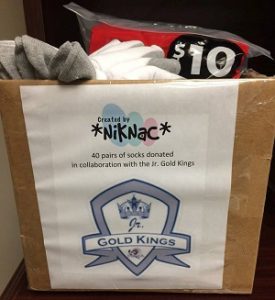 "Over the last year, I've had an increase in people just approaching me individually who are just needing a hand up and if we can help them with some new socks, then we do so," Halt comments. "So really, it's just getting new socks out to those who are in need in our community.
"Winter time is a challenging time for those who are perhaps out and about and maybe don't always have a warm place to go."
Halt adds that socks are needed year-round, and people don't often think of women and kids needing them, too.
The best way to contact Socks Timmins is through its facebook page: https://www.facebook.com/SOCKS-Timmins-1523104554608165/