The end of the Christmas-New Year's holidays also means the end of outdoor activities like skating, except for evenings and weekends.
This weekend, we caught up with the Lacelle family on the smaller of the two rinks at Roy Nicholson Park.
Grandmother, mother and three granddaughters were enjoying the exercise.
Seven-year-old Hayley is a novice skater, who is honest about how she's doing on the blades: "Not that well."
My Timmins Now Dot Com: "How are you liking it so far?"
"Really good."
"Why do you want to learn how to skate?"
"Cuz I want to skate with my family."
And then there's six-year-old Abygail, who can leave anyone in her snow dust.  She says she first learned to skate slowly.
"And after when I practice to skate slow, now I practice to go fast," she reports.
"What's the hardest part about skating? "
"Umm (pauses) "
"Stopping?"
"Yeah!"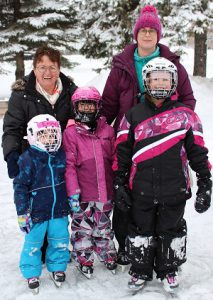 It's been a frustrating season, with varying ice conditions due to the freeze-thaw cycle we've experienced.  Grandmother Carole Lacelle won't complain about ice conditions, though.
"It's alright, but I prefer the (Hollinger) Skate Park," she says. "Yeah, I miss the Skate Park.  That was nice, yeah.  So it's a good day to go out and enjoy the weather."
Lacelle says her family also took advantage of free indoor skating over the holidays.