It only took nine and and a half hours for Timmins and District Hospital to deliver the first baby of 2019.
The daughter of Cindy and Marc Dupéré of Porcupine was born at 9:33 New Year's morning.
Her mom has the rest of the vital statistics: "Her name is Oaklyn.  She weighed 6 lbs. 11 oz. and she was 18.22 inches long."
Oaklyn's only sibling is her 20-month-old brother, Jaxon.  Cindy says his reaction has been very good.
"I think a little bit surprised. He's like 'who decided that this was allowed'," she explains as she laughs. "But he's adjusting very well actually.  He's really good.  He's wanting to hold her and stuff."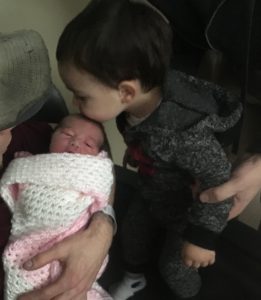 Cindy says Oaklyn's birth was a bit unexpected.
"My due date was actually on the 5th," she explains. "But I actually had my son four days early.  So it turned out I had her four days early as well."
Oaklyn's mom says she went into the hospital at about 11:00pm  New Year's Eve.  And no, she and Dad were not partying.  Cindy says they had no plans at all for the night.  Oaklyn singlehandedly, all 6lbs. 11 oz. of her.