More than 300 Timmins families who didn't have the means to cook a big Christmas dinner now do, thanks to the Stan Fowler Santa Claus Fund.
The money was raised by the Schumacher Lions Club and Moose FM, during the Feeding Families Radiothon.  The vouchers were delivered to recipients on Saturday morning.
One of them – who we will only refer to as "Amanda" – says the people behind the Stan Fowler Fund are awesome.
"It's really nice that they do all this and go out of their way to help out the people that can really use all the help."
Amanda says without the extra help, she couldn't afford extras like Christmas decorations and baking cookies with her kids.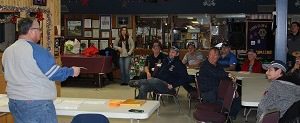 Lions Club member Andy Guillemette says it's an honour to help. "Christmas is so special, you know. It's to give and that's what we do."
Moose FM's Bob McIntyre rode along with Guillemette and fellow Lion Peter Martel.  Here's an excerpt of their conversation while delivering vouchers:
Martel: "It's nice to see the people who get it.  They appreciate what we're doing and that's why we're doing it."
McIntyre: "It's a real eye opener, eh, Andy?"
Guillemette:  "Oh, yes it is, man.  You wouldn't believe, I've seen some people cry and you know, it's a big thing."