UPDATE, Fri,, Dec, 14, 6:00pm: OPP now say that as a result of the autopsy, the victim has been identified as Kevin Chenier, 30, of North Bay.  The investigation has closed and no charges will be laid.
Ontario Provincial Police confirm one death in that fiery crash near Englehart late yesterday afternoon.
A tractor-trailer and a cube van both burst into flames when they collided on Highway 11, shortly before 5:00pm.  The highway was closed and detours were in place until just after 4:00am.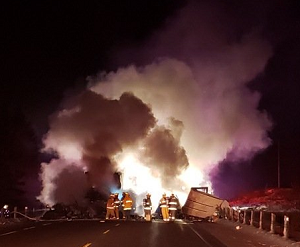 OPP Northeast Region media relations co-ordinator, Sergeant Carlo Berardi, says few details are available yet.
"The crash is under investigation.  We've got our specialists on it and once further information becomes available, we will release that to the public."
Berardi says an autopsy will take place tomorrow (Thursday) in Sudbury.
"We haven't confirmed the identity of the person, so until that information is provided to us, we won't be able to give out any information in regards to the identity."