For the second time in two years, an indie comic book created in Timmins is up for a Canadian Independent Comic Book Wiki Award.
Last year, it was "Auric of the Great White North".  This year, according to writer and co-creator Davis Dewsbury, it's the spin-off "Norlan, Sorceress of Light"
Norlan is a member of Auric's the Timmins-based team "Legion 99".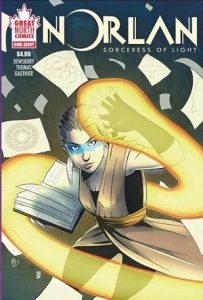 "I was telling my artist Andrew Thomas and my colourist Sharon Gauthier," Dewsbury says, " I'd really like to do something where we give a little bit of background on her, so that she's not just a fill-in.  I'd kind of really like this female character to have a voice and be important in her role."
You can find Auric and Norlan by searching for Auric on facebook.  Dewsbury says you can also find a digital copy of the Norland comic.
"And people can download it.  They can read it themselves and if they like it, we'd really, really love to have their votes for the Canadian Comic Wiki Awards."