About 200 people rallied outside the Wilson Ave. office of Timmins MPP Gilles Bisson Saturday, demanding that Premier Rob Ford reinstate French-language services that were cut in the fall economic update.
The cuts include folding the French-language services commissioner into the Office of the Ombudsman, and scrapping the previous provincial government's plan for a French university in Toronto.
The demonstration was one of 40 in Ontario, and one in Québec.
Local organizer Sylvin Lacroix is the general manager of the Francophone Alliance of Timmins. The rally was in both official languages, because Lacroix says cooperation is needed to stop any government spending cuts.
"So we have to get together and work together to stop those cuts.  What's next? – Schools, police, firemen, cities…?"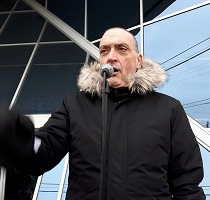 Lacroix underlines the fact that French-language services are guaranteed.
"There are two things," he says. "The constitution and also there are five or six judges that said we have to right to have exactly the same services as the rest of the community."
But Lacroix is willing to give Conservative Premier Doug Ford the benefit of the doubt.  He says Ford simply doesn't know, and his advisers don't advise him properly.
The local Francophone leader laughs at the increased cabinet responsibilities of Caroline Mulroney to include French-language services.
"He (Ford) took the loaf of bread from us, and gave us the crumbs.  I mean, it's a joke.  But I'm still hoping.  I'm still hoping because you know it's going to go in court and we're going to win, because we win all the time.  I don't know why we have to do that."
Timmins New Democratic MPP Gilles Bisson is impressed with the number of Saturday's demonstrations province-wide. He says Francophones in Ontario haven't organized in such a way since late in the 20th century, when they successfully fought off the Mike Harris government's closure of the Montfort Hospital in Ottawa.  It is the only French-language teaching hospital in the province.
"At that time, people did exactly what they're doing today," Bisson remarks, "and eventually, they got Mike Harris to back down.  And he was the guy that didn't back down on anything."
Bisson says the same lawyer who led the Montfort case, Mike Caza, is also spearheading this fight.  And the Timmins MPP is confident of another victory.
"They're making the same argument when it comes to these services, and I'm sure in the end, he'll (Caza) will be upheld. So what's the point of Ford doing this is really bizarre."
The New Democrat says the PCs are throwing away the increased trust they gained from the French-speaking population since the election campaign earlier this year.
Rally organizer Sylvin Lacroix's advice to the Premier: "Look at what you're doing." He predicts that Francophones, Anglophones and Indigenous people will march on Queen's Park together, if the pattern continues.