Whether you're drinking or toking this Christmas-New Year's season, police agencies across the region are aiming to keep you off the roads and snowmobile trails.
Supported by the Timmins chapter of MADD and the Porcupine Health Unit, the Timmins Police Service and OPP have launched the annual Festive RIDE (Reduce Impaired Driving Everywhere) campaign, squarely aimed at drivers under the influence of alcohol or marijuana.
Timmins Police traffic sergeant Tom Chypyha warns against complacency on Christmas Day itself, thinking the roadside checks and other enforcement techniques will take a break.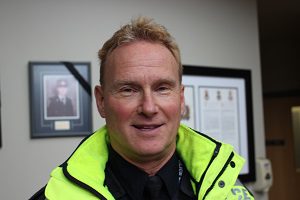 "Definitely not," he notes. "You'll see there are two platoons that  will be working and they will be focusing on those areas as well as other calls for service.."
The stepped-up enforcement does include snowmobile trails.  Chypyha says "We do have two officers out there as well as volunteers that have come out and will assist with this.  And again, if the public sees people that they suspect as being impaired by either alcohol or drugs, they can call 9-1-1 and report that as a criminal offence, right? – and will investigate those."