TUESDAY AFTERNOON UPDATE: The police search for Ryan Armstrong of Timmins has found his body in the wooded area off the southern end of Mountjoy Street. The 36-year-old was reported missing to Timmins Police a week ago by a family member. Foul play is not suspected.
A police search was underway late Tuesday afternoon in the wooded area off the south end of Mountjoy Street for a missing 36-year-old man.
The TPS emergency response team and an OPP dog were part of the search for Ryan Armstrong.
They're saying little about him, other than they want to find out where he is and confirm his wellbeing.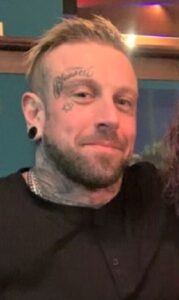 RYAN ARMSTRONG
5' 8" tall
200 lbs. with muscular build
Blue eyes
Brown hair with blond highlights
Body tattoos
Last seen wearing a light-coloured hoodie, knee-length athletic shorts, headphones.
Anyone with relevant information is asked to call Timmins Police immediately at 705-264-1201