A storm that quickly rolled through Nellie Lake and Iroquois Falls last night (Sun.) left a lot of trees damaged and uprooted… and cost a property owner at the lake an outhouse.
A neighbour to that property – Colin Kennedy – says the storm didn't look as angry moving in, as it was when it struck at about 8:30.
He says he escaped  relatively unscathed from the rain, hail the size of nickels and the wind.  He, his partner, their pets, chickens, buildings and cars weren't hurt.  But two trees came down, ripping out part of the vegetable garden.
"This past winter was pretty hard on some of the jackpine on the front lawn" he observes, "and I was more worried about them coming down than I was these two healthy birch in the back yard, and down they came."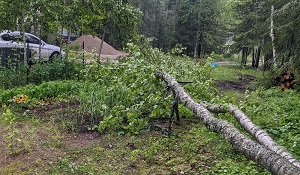 "You could tell that there was definitely a good storm as I was on my way out the Nellie Lake Road this morning, on my way to work. There were copious branches and tree parts laying all over everywhere."
Electricity was also knocked out for a few hours.
There are also reports of wind damage, mostly to trees, in Iroquois Falls and on Oil Tank Rd.