The supervised drug consumption site known as "Safe Health Site Timmins" opens Monday morning in part of the former Living Space building on Cedar St. N.
It's operated by Timmins and District Hospital, and managed by the TADH addictions program manager, Pat Nowak.
The site will operate from 9:00am until 9:00pm seven days a week.  Nowak says those hours were set after consulting the paramedic service about its prime hours for overdose calls.
"And nine to nine seemed to be the best spot for a 12-hour shift at that point, and we also modelled other sites as well in the determination of their hours," he tells My Timmins Now Dot Com.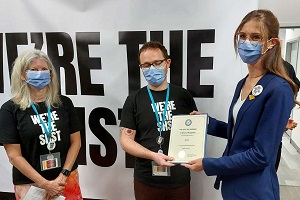 The site does not supply drugs, the user must bring them; there is no sharing or selling on-site; and staff does not inject drugs, it simply supervises and intervenes if there's an overdose or related problem.
Nowak says the only question asked is which drug a client is using.
"If someone who is using a stimulant for instance ends up requiring oxygen and naloxone," he explains, "we would be in a much better position to inform the public and people who use substances that there might be something contaminated in the community as well."
Nowak emphasizes that SHST will not end the opioid crisis in Timmins, but will likely reduce the high death rate. Staff will also refer clients to drug treatment services.
Hear more from Pat Nowak right here: