There's a jewellery thief in our midst, and Timmins Police are trying to determine who it is and where they are.
Between 5:30pm this past Sunday and 8:30am Monday, jewellery worth about $20,000 was stolen from a vehicle outside a home on Seventh Ave.
Communications coordinator Marc Depatie says there's a cautionary tale coming out of this case.
"At the risk of victim blaming, which we never indulge in of course," he notes, "but obviously this should speak loud and clear as to the necessity to keep valuable items within your residence. Anything that is valuable to you should not be stored in your vehicle, even if it's overnight or for five minutes for that matter."
"We don't think this is a sophisticated crime in any way, just so happens that a significant amount of stolen goods were taken in this particular situation."
Depatie adds that tips to police or Crime Stoppers are welcome, even if you've heard something and aren't quite sure about the source.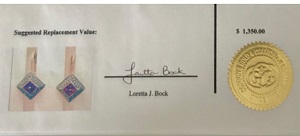 STOLEN JEWELLERY
– 3-piece gold set ("Turkish link" as per the appraisal document)- hanging earrings, bracelet and necklace (3 separate pictures)
– 8 charms only (3 boys' heads with inscription of birthdates on back; a Hawaiian charm with red stone; RN charm; circular "21" charm with 4 red stones; Christmas wreath with red stone; flower basket with multi-coloured stones & white pearls)- these were in a small plastic bag
– 1 white & yellow gold serpentine necklace- ~ 18-20" in length
– 1 pair of ruby & diamond European clasp earrings in yellow gold- rubies are square cut
Other items that complainant recalls, but doesn't have pictures:
– 2 Pandora bracelets with 10-12 charms per bracelet- silver coloured- charms are multi-coloured and some stones, some hanging, many travel items
–  1 Pandora necklace with 3-4 charms including a Family Tree & Cat Paw- silver coloured
–  1 pair Gold nugget stud earrings
–  1 pair Italian golden "sea shell" stud earrings-
–  1 single strand pearl necklace ~ 20-22" in length
–  1 pair of pearl stud earrings- 10K gold posts
–  1 triple strand of pearls- sterling silver link
–  1 birch bark box with a sterling silver & pearl broach with matching earrings
–  1 sterling silver set of earrings & necklace with brown coloured stone
–  1 costume jewelry pearl bracelet- gold-coloured metal
–  1 gold- metal pocket watch with chain
–  1 man's shark's tooth neck chain (brown & white stones)
–  1 gold antique filigree butterfly broach
–  1 silver 18" chain with Eternity symbol & cat paw
Source: Timmins Police Service