The first question when you hear about Stephanie Brown being at the Scotties Tournament of Hearts this week is "How did a Timmins police officer get to play for Team Yukon?"
Const. Brown has known Yukon lead Kim Tuor since they curled together in Ottawa as teenagers. Tuor ended up in Whitehorse, and when her team needed an alternate for the national women's tournament, Brown met the import requirements.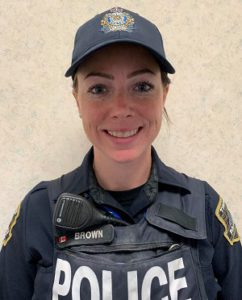 Even as the fifth team member, Brown got into three round-robin games… playing in the third position.
"Yeah, it was awesome," she enthuses.. "I didn't expect to play, so being able to have that opportunity was once in a lifetime for me and was absolutely amazing."
That's a much bigger stage than the Thursday mixed league at the Mac, where you normally find Brown.
"Unfortunately, with working a shift work, I can't really commit to too much more," she explains.
Being on maternity leave after having a baby girl almost six months ago made the trip to the Scotties possible.
"My partner, my fiancé has taken on the Dad role very well and is home with both our kids," she says in tribute to Mike Sparks. "So he is very busy at home."
Brown got into three games at the Scotties, playing third, but Team Yukon didn't make it out of the round robin and into the playoffs.