Here's an epic story for Trenton Curtis to use in his "What I did on my summer vacation" essay.
The 12-year-old from Porcupine is going into Grade 7 at Roland Michener Secondary School this week.  His essay will tell about how he cycled more than 400 km  and raised about $1,500 dollars for Sick Kids Hospital.
On one leg, he planned to cycle about 50 kilometres to Cameron's Beach at Nellie Lake.  But he kept going, all the way to Cochrane.
"Once I saw the sign that said how far Cochrane was," he explains, "I wanted to do the hundred, because I just thought it'd be cool to make it to a hundred."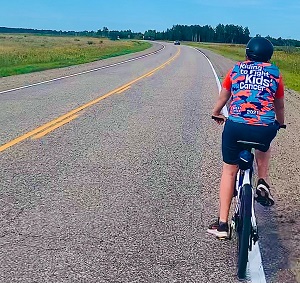 Trenton says he wasn't as tired as you would think when he got to Cochrane.  Nor did he do anything special to train for all that riding.
"I was biking every day, well every day that I could in August for ten to 20 (km) a day."
He says he might do the Great Cycle Challenge