The English public school board serving Hearst to Temagami hopes to sink more than $27-million into building improvements in the coming year.
DSB1 Chairman Bob Brush says the biggest chunk of that – close to $10-million – will go to ventilation in 29 schools.
"Schools that had ventilating systems but they needed to be upgraded, then those upgrades are being done." he outlines. "In some cases entirely new systems are being put in place."
Brush says the rest of the work ranges from plumbing to elevators and lift devices. The trick is finding contractors to bid on the work.
"Some of them don't get completed in the year that you allocated, but we're hoping and confident that we'll be able to proceed on most of them, and hopefully all of them."
The money comes from the provincial government.  It's putting special emphasis on ventilation, to make sure schools are as safe as possible during the pandemic.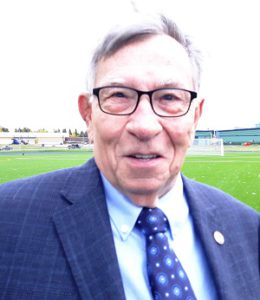 DSB PROJECTS (partial list)
17 plumbing improvement or replacement
16 site improvement (grounds, parking, track and field facilities, etc.
15 flooring
14 electrical
13 exterior doors and windows
12 roofing
12 heating
11 elevators/lift devices
-Source: District School Board Ontario North East