Update:
The man who died after his van crashed into Little Pearl Lake has been identified. Timmins Police have confirmed 23 year old Richard Gagnon, from Timmins, was the driver of the van.
Police went to a home on Denise St. to notify his next of kin, when they found two deceased individuals. No identities are being released yet, pending a post mortem scheduled for tomorrow. Police are calling the deaths suspicious, and say that at this time, they believe the two cases are connected.
The van was removed from Little Pearl Lake on Sunday with the help of the OPP's Underwater Search and Recovery Unit.
They maintain that there is no concern for public safety, and still ask anyone with information to get in touch with the Timmins Police Service. Police Chief Gauthier says the investigation is still in its early stages, and they will release more information as they are able.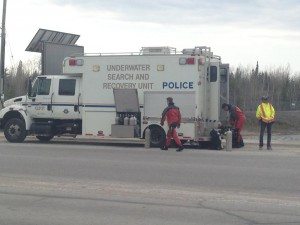 Original Story: 
Three suspicious deaths over the weekend are being investigated. On Friday night, a van crashed into Little Pearl Lake, just west of McIntyre Road. Two local men jumped into the lake to try and save the man, but their attempts failed. The driver was taken to the hospital, but died as a result of his injuries. Firefighters wearing dry suits tried to find the van on Friday, but it wasn't recovered from the lake until Sunday evening.
Then, two bodies were found inside a home on Denise Street on Saturday afternoon. There may be a possible connection between the two incidents, something police are looking into. The deaths are suspicious, and foul play is suspected.
The Timmins Criminal Investigation Unit has taking over the case. No other details are being released yet, but public safety is not a concern.
Anyone who may have seen the crash, or who have any information regarding either incident is being asked to contact Sgt. Lorne Yee at 705-264-1201 ext 8169.
Photo: The crashed van being recovered from the lake on Sunday, May 3rd.