It's a wrap for the Mountjoy Farmers Market this Saturday.
Porcupine District Agricultural Society president Rock Whissell says the market has averaged 500 visitors over the 14-week run.
Keeping with the weekly barn yard visitor feature, this week's market presents a pet turkey named Butterball, from Crazy Acres Farm in Iroquois Falls.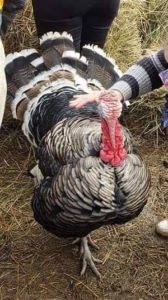 "They've decided to bring the turkey because of Thanksgiving," Whissell outlines, "and giving a chance for people to see a little bit of the animals they've had at their farm and to show everybody where your food comes from."
Whissell adds that vendors will have pretty well all that you need for Thanksgiving dinner.
"Definitely have all the meat – the turkeys, the chickens.  I think we're going to have some apples there also and some apple cider.  All the vendors are all fully loaded and ready for their last market."
The Mountjoy Farmers Market runs from 9:00am until noon Saturday on Riverside Drive, just west of the bridge.