Police call an incident in downtown Timmins late Thursday afternoon "isolated".  At about 5:00pm, a man who was wounded with "an edged weapon" — again, a police term — went to Shoppers Simply Pharmacy on Third Ave. at Birch St., looking for help.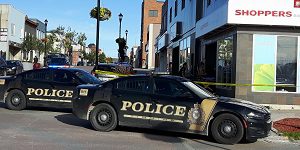 As officers put yellow tape around the store's entrance and directed pedestrians around it, paramedics brought out the 31-year-old male victim. He was holding a jacket or other garment over his head.  He was listed in stable condition at Timmins and District Hospital.
The criminal investigation division of Timmins Police is in charge of the case.