UPDATE AT 1:45pm:  Work and clean-up on the highway are complete, traffic flowing again except, of course, through the Rae Hill construction zone, which is still down to one lane in each direction.
UPDATE AT 12:30pm: The highway has reopened, but could close off and on throughout the afternoon while repairs are completed and debris is removed.  The best advice is to keep detouring via Vipond Rd. and Goldmine Rd.
First responders are being put through their paces in two locations in Timmins this morning.
At about 9:30am, firefighters were called to the Deloro landfill site where flames had broken out in the public dumping area.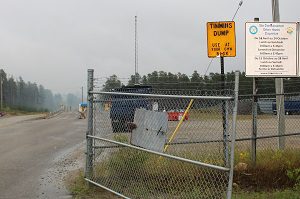 Deputy chief Ellard Beaven tells My Timmins Now Dot Com that the fire is contained, and there's no danger of it spreading to neighbouring bush.  It will, however, take several hours to extinguish, so the landfill site is closed until further note.
Deloro landfill site closed until further notice

Hwy. 101 closed at Ski Runners Rd. for several hours
Meanwhile, Highway 101 is closed at Rae Hill because of a burning, downed hydro pole and power line across the highway near Ski Runners Road.  Hydro One is en route, and the highway is expected to be closed for several hours.  Power is expected to be off in the area during that same period.
Timmins Police communications coordinator Marc Depatie says to detour via Vipond Road and Goldmine Road.
Stay tuned to 93.1 Moose FM and check back here at My Timmins Now Dot Com.