A travelling exhibit from Science North investigating extreme sports opened today, and is at Science Timmins until August 17th.
It's called "Beyond Human Limits" and is about one-sixth the size of the full exhibit at Science North in Sudbury.
Speaking to dignitaries and day campers at Science Timmins, Science North CEO Guy Labine said this is one of five stops in the north for the exhibit.
"In all of the locations that this exhibit has been," he remarked, "it's at least doubled the attendance from what would traditionally have been experienced, by being our partners."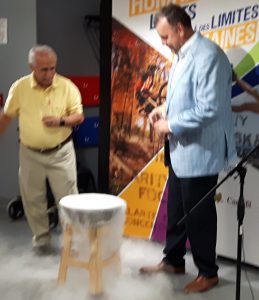 Science Timmins board chair Lorraine Cantin also addressed the gathering.
"Science Timmins so appreciates their partnership with Science North that you bring us these special exhibits that the people in Timmins and all surrounding areas can come here daily and experience these extreme sports that are beyond our human limits," she said.