For the first time since 1975, there is no tourist information booth serving  Iroquois Falls.
Mayor Pat Britton says over the past three years, half of the people stopping at the booth on Highway 11 just outside Porquis have only stopped to use the washroom.  Of the rest, only about a quarter asked for maps or directions.
With no plan to revive the service, the next consideration is the future of the building itself.
"It's going to come to council and we're going to have to decide as a council what we're going to do with it," says the mayor.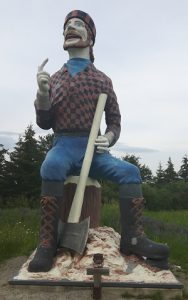 Britton says there are still places and events to attract people to the Falls, such as campgrounds and the Porquis Rock and Blues Festival.
He adds that council will have to decide what to do with the building and whether it might attract a buyer, if it comes to that.
"Well that's going to be part of the conversation, I guess," Britton states.  "We're going to have to start throwing stuff up against the wall and see what sticks and see if we can come up with something that we repurpose it for whatever."