Add Timmins to the list of North American cities attracting picket lines at screenings of the controversial movie "Unplanned".
Outside Cinema 6 last night, Timmins and Area Women in Crisis members said they weren't discouraging theatre goers from seeing the biography of a woman who went from being a Planned Parenthood clinic director to a pro-lifer.  But they claim some of the material presented isn't fact.
Women in Crisis staff member Caroline Martel says her group's particularly worried at the teenagers being targeted by "Unplanned".
"Your mind is a sponge, which is fine," she said. "Watch the film but just make sure you fact check and don't make your medical decisions based off of a film."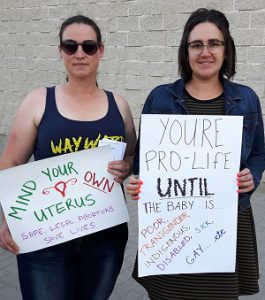 Karen Hutchison is board member at Women in Crisis.
"If there's going to be information put out there about any medical procedure, whether it be abortions or anything else, the facts put out there should be actual facts," Hutchison commented. "The stories should be based on what really happened so that people can get accurate information to base their decision on."