A $500 reward is available for information that helps find whoever's been vandalizing Schumacher Lions Park with graffiti.
Park chairman Ray Bussiere says it appears to be the same tag used at the McIntyre Arena and other places across the city.
"He puts it all over the garbage cans and our beams and puts it on our buildings. It's not right," says a frustrated and annoyed Bussiere.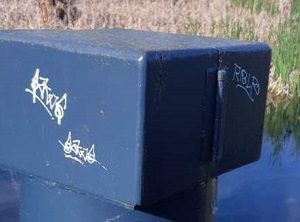 Bussiere doesn't necessarily want to see the culprit go to court or jail.
"It's three times now he does it.  So we won't press charges, but he's going to have to do some work for it."
Timmins Police tell Bussiere they've increased nighttime patrols in the area of the park.