The Timmins Police Service has begun its annual round of bike rodeos, delivering a wide range of safety information to Grade 4 students from every school in the city.
"When you get to Grade 4," says Const. Rick Lemieux, "they start to go out on their own a little bit more."
Lemieux says it's the prime age to teach about rules of the road, such as riding in single file and where to stop at a stop sign or traffic light, as well as why cyclists should wear helmets.
He says you only have one brain, so you want to protect it.
"So that's basically what we're doing," Lemieux sums up, "just to give them a little base on why they should wear their helmets, going over the basics of the rules of the road, and talking about brain injury.  It's just something to get into their heads at an early age, so hopefully it continues into adulthood."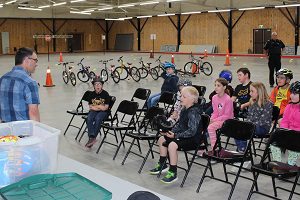 Across its catchment area, the Porcupine Health Unit also promotes helmet use among bicycle riders.
Part of health promoter Marty Paul's job is to encourage wearing a helmet, and wearing it properly.
"We reinforce the rule of 2V1," he explains, "which is two fingers above the eyebrow – that's how low your helmet should sit – and the V is the two straps around the ears, and the 1 is one finger space underneath the chin."
Paul adds that the chinstrap should always be fastened.  The helmet can't protect you from brain injury if it falls off as you fall off the bike.
He's also quick to dispel the myth that a helmet and its padding can prevent a concussion.
"Oh, absolutely not.  A helmet won't prevent concussions.  It just will prevent severe head injury, head trauma, right? (Bob McIntyre:) Just lessen the severity. (Paul:) Exactly, yeah, yeah."
Const. Lemieux tells the Grade 4 students at the rodeos that a brain injury from not wearing a helmet might not ever heal.  If you're under 18, the law says you have to wear a helmet. Lemieux says adults can set the example, and so can the kids.
"When you get to Grade 4, you're starting to get a little bit older now and there's a lot of little kids that look up to you," he tells the rodeo participants.. "You know, the Grade , Grade 2, Grade 3 kids are looking up to you, so be an example.