Almost simultaneous crashes on the old Hwy. 101 through Timmins Wednesday afternoon slowed down traffic as much if not more than the rain did.
Both happened at around 2:00pm.  One was on westbound Algonquin Blvd. near Hwy. 655 — in front of Harvey's — where it appears that a transport truck sideswiped a car.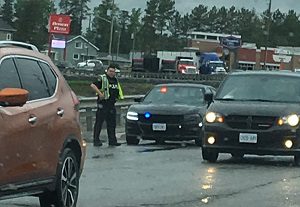 The other was on eastbound Riverside Dr. at Norman St.  In that instance, a tow truck rear-ended a small car.
Police are investigating both.