Any doubt that Timmins is a basketball town was erased Monday night at the Mac, also known as "Jurassic Park North".  Hundreds of people gathered to watch game 5 of the NBA final on giant screens, with the Toronto Raptors on the verge of making NBA history by winning
Derek Seguin organized the party at the Mac.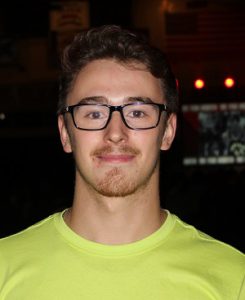 "The support is unreal," he told My Timmins Now Dot Com, with an ear-to-ear grin.  Everyone's coming in, there's Raptors swag, they're wearing hats, they've got blow-up 6s, they're wearing their jerseys.  People that say Timmins isn't a basketball town is clearly wrong."
The game was projected on two 12-foot by seven-foot screens. We spoke to one woman in the very noisy crowd, and suggested that Timmins is a hockey town, not a basketball town.
"No, I think we're half and half," she said, with no hesitation.  "There's more and more basketball.  Our kids are playing basketball.  It's just awesome and it's fun and it's what Canada's all about."
Here's Bob McIntyre's interview with Derek Seguin: