Two pick-up trucks with after-market modifications were stolen within a few days of each other in Timmins. That's not where the similarities end.
We told you last week about the truck that was stolen out of the owner's Craig Street driveway on February 3rd.  Timmins Police communications co-ordinator, Marc Depatie now alerts us to one that happened at around January 30th, when a truck was removed from the lane between Father Costello Drive and the Schumacher Highway.
"In both cases, the keys were not made available to the thief that we know about," says Depatie, "and both vehicles were hosted on different vendor-oriented social media sites as being for sale."
These trucks would really stand out in a parking lot.
"The one has a Dooley rear end, which is not terribly common," according to Depatie, "and the other one has a lift kit on it and some after-market tires that are making it rather distinctive in appearance."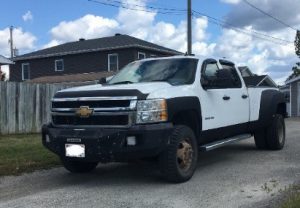 The first reported theft was this one.  The second one was reported later, but happened earlier.  Here is a description of that vehicle, as pictured at the top of this article.
STOLEN PICK-UP TRUCK
2005 Ford Model 3500 – King Ranch
Stolen around January 30th from outside the auto repair shop in the laneway between Father Costello Dr. and Algonquin Blvd.
Orange with gold trim along the bottom
Back rack with 6-ft. light bar on top
Oversized 36-in. tires
Timmins Police Service incident TI19003118
Timmins Police Service: 705-264-1201
Crime Stoppers 800-222-8477