A shortage of gasoline that has been rumoured around Northeastern Ontario lately has hit at least one station in Timmins.
The Shell outlet at the Timmins Auto Mall on Riverside Drive, just east of Timmins Square, has closed.  When My Timmins Now Dot Com stopped by at 6:00pm Tuesday, the station was locked and in darkness.  A handwritten sign on the pumps said it was out of petroleum products.  A neighbouring business owner said the Shell closed at about 3:00pm.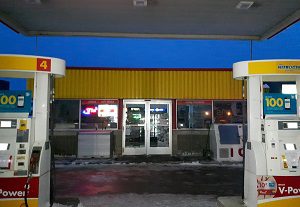 The Shell station next to Hollinger Park, however, remained open.
My Timmins Now Dot Com also checked with the Petro Canada station at Algonquin Blvd. and Mountjoy St.  It had been rumoured to be selling higher-grade gasoline at the same price as regular.  The operator there confirmed that he was forced to do that briefly twice in the past week, while waiting for his shipment of regular grade.  He added that he was told it was due to "transportation issues", and when he asked his supplier whether it was because of mechanical problems or a driver shortage, he was told it was a combination of the two.