Mike Doody's résumé of community service to Timmins is longer than anyone else's.  And now, the longtime city councillor/one-time mayor can add honorary member of the Timmins Museum: National Exhibition Centre board to that list.
City council approved the designation this week.  Museum director-curator Karen Bachmann says board members came up with the idea at their January meeting.
Doody has been involved with the museum since the sod-turning for its first building.
"He's been involved with the board for such a long time," Bachmann notes, " they felt it would be really nice to be able to say that he was an honorary member of the board and that we could actually use all of that wisdom that he has accumulated over the last 40 years."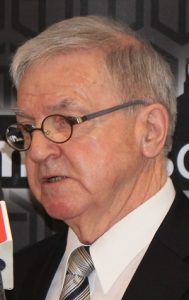 Bachmann says that even without voting privileges as part of his new role, Doody is still a treasured resource.
"He can certainly help with the history of the museum, certain issues that the board may have in terms of why things were done whichever way they were done, and offer some really sage advice about moving forward."
Council earlier approved naming the building that houses the museum, the Timmins Economic Development Corporation and the HGS call centre in Doody's honour.  Bachmann says a ceremony for that purpose is being planned.