Fun and stress relief are the two biggest reasons behind a one-day hockey tournament… this coming Saturday in Iroquois Falls.
The 13th annual Fun Fire Hockey Challenge has five teams made up of volunteer firefighters and paramedics from Iroquois Falls, Black River-Matheson, and Timmins..
Firefighter Mike Breton is the organizer.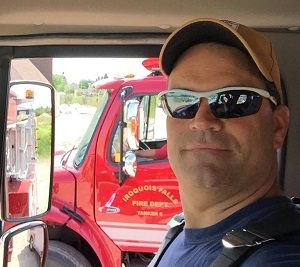 "It's only fun, he says. " It's just to generate some camaraderie amongst our first responders within the district in an atmosphere where there's no uniform and no pager attached to the participant."
Breton says that's important for people who encounter tragedy and risk the danger of developing PTSD.
"It's good to strike a balance between work and play.  We're hoping that this particular event will do that, will strike that balance on a social side."
Each team plays three games.  The champion is decided by the most wins.  The tiebreaking formula underlines how the emphasis is on fun.
"Teams with less penalty minutes." Breton explains, " or sometimes a flip of a coin."