For the 51st consecutive year, Centre Culturel LaRonde will be celebrating all things French-Canadian Feb. 11-23, with its annual winter carnival.
Of course, Bonhomme Carnaval will be the focal point of the celebration, and has even been chosen as this year's theme.
LaRonde executive director Lisa Bertrand says Bonhomme will participate in a Zumba class, and be involved in the fun on Feb. 15, when part of Downtown Timmins is closed to traffic for activities organized by the BIA.
"And we're going to take over Bucovetsky's," according to Bertrand. "We're going to do  une vitrine, so a storefront display of the carnival and all of the 50 Bonhomme Carnavals  in the last 50 years."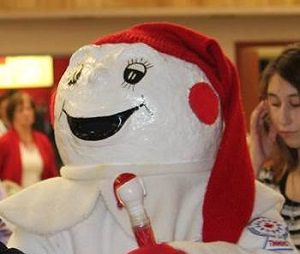 Stores across the city are welcome to compete with their own window displays.
"We decorate for Christmas," comments Bertrand. "We decorate for St. Paddy's Day. We decorate for la Saint-Valentin.  Why not decorate for le Bonhomme Carnaval and bring back our French-Canadian heritage that we are so proud of?"
As usual, Bonhomme is the subject of a contest to guess who really is inside the costume.  The big reveal comes on Feb. 23 at Cedar Meadows, during the carnival wrap-up.  It will feature wall-to-wall traditional French-Canadian food and music.
More information is at www.larondetimmins.ca and its Facebook page, by searching for Centre Culturel LaRonde.