A little bit of "Tokyo Drift" was displayed at an intersection in Timmins yesterday morning, and is now the object of a police investigation.
"Drifting" – as seen in the "Fast and Furious" movies – happens when a driver coming around a corner performs a maneuver that causes him to lose control of the back end of his car.
That's what investigators think happened yesterday at around 8:00am at the corner of Rea St. S. and Southern Avenue.  Timmins Police communications co-ordinator Marc Depatie says the black Corolla that likely drifted, hit another car head-on. After a quick check, the driver drove away.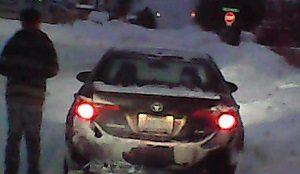 "Sadly, we have some test pilots in the Timmins area," Depatie comments, "and when they engage in this kind of activity, these collisions occur."
"There should be considerable damage to the front end of the Toyota Corolla," he adds.  "We strongly suspect either that the front bumper has obvious signs of damage or perhaps isn't even attached to the vehicle any longer."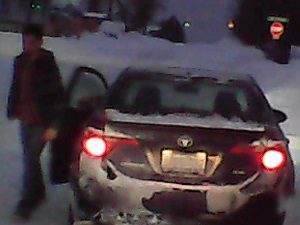 Ideally, investigators hope the Corolla driver turns himself in.  Otherwise, they're looking for information on his whereabouts and that of his car, directly to the traffic section, or through Crime Stoppers.
SUSPECT DESCRIPTION: 
TIPS:
Timmins Police Service Traffic Section 705-264-1201
Crime Stoppers 800-222-TIPS (8477)