The city is approving a $152,220 expense for a detail design of phase one of the Connecting Link redesign. AECOM will be doing the work. This is something Mayor Steve Black says they had to get going, because construction is supposed to start this summer.
However, Black says that does depend on how much money the city gets from the province, if any. He says if they are successful in getting the grant they need to have the designs ready to go. It's an issue where the city can't wait to see if they get the grant and then go out for the detail design, because then construction won't be able to begin this summer.

Black says even if the province doesn't kick in any money, they will still need this detail design at some point for the project to begin. The first phase of the project includes redoing almost three kilometres from East of Rae Hill to Bruce Avenue, to a tune of $4.5 million. The city has applied for $3 million from the province. The recipients of the Connecting Link funding grant are expected to be announced at the end of the month.
A breakdown of the 10 phases to redo Algonquin, which doesn't include any of the upgrades. A total cost for the project is $144 million, which factors in redoing the road and all of the extras like sidewalks, and burying overhead lines.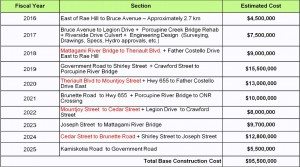 Previous stories: 
Connecting Link redesign to look at traffic flow issues along Algonquin
Details on $49 million worth of upgrades to Algonquin
Details on the $95 million price tag to redo Algonquin